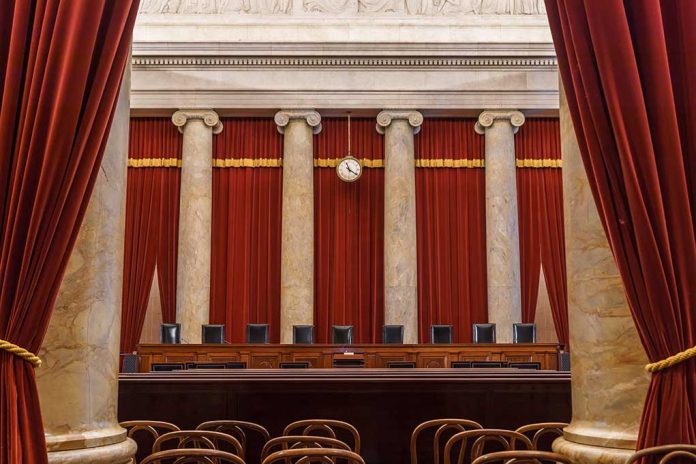 (ReliableNews.org) – At the beginning of April, ProPublica revealed Supreme Court Justice Clarence Thomas didn't disclose a billionaire Republican donor has been treating him and his family to lavish trips and gifts for years. In the weeks since demands for court reform have grown louder. Now, another justice is facing heat for a real estate deal.
On April 25, POLITICO reported Associate Justice Neil Gorsuch tried for two years to sell a 40-acre piece of property he co-owned in Granby, Colorado. A 3,000-square-foot log home sat on the property in the mountains and next to the Colorado River. He and his associates weren't able to sell the property between 2015 and 2017. Then suddenly, nine days after the Senate confirmed him to the Supreme Court in 2017, one of the biggest law firms in the country bought the land.
Greenberg Traurig CEO Brian Duffy's offer on the home was accepted on April 16, 2017. The $1.8 million deal went through a month later. Gorsuch received between $250,001 and $500,000 for his 20% stake in the property. POLITICO found Duffy's firm has been involved in at least 22 cases before the Supreme Court since the deal went through. In 12 of those cases, the justice's opinion was recorded, and he ruled in favor of Greenberg Traurig's clients eight times.
In 2017, newly-confirmed Supreme Court Justice Neil Gorsuch quietly sold property to a CEO whose law firm has since argued at least 22 cases before the Supreme Court.https://t.co/6opmOiz1oZ

— POLITICO (@politico) April 25, 2023
When Gorsuch filed his federal disclosure, he left the box blank that asked for the name of the person who purchased the property.
Duffy said he has not met Gorsuch, spoken to him, or ever personally argued a case in front of the court. He claims that he had the sale cleared with his law firm's ethics department when he was notified that the SCOTUS justice was the owner of the land.
The Senate is holding a hearing on May 2 to discuss the possibility of adopting an ethics code for the high court. Chief Justice John Roberts has declined an invitation to discuss the matter before Congress.
Copyright 2023, ReliableNews.org