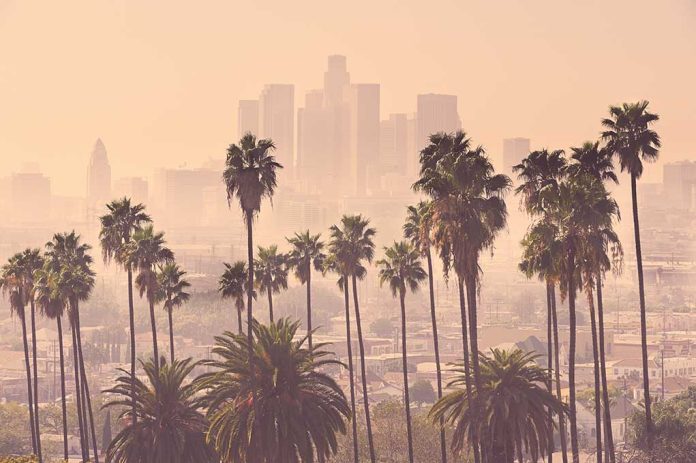 (ReliableNews.org) – For over 100 years, the American Lung Association (ALA) has been committed to saving lives by concentrating on preventing lung disease and improving lung health. It has more than 500 staff members who work with volunteers from all over the country to educate, fundraise, research, and advocate for cleaner air. Each year since 2000, the ALA has released a State of the Air report, ranking the dirtiest and cleanest places across America, based on ozone and pollution data gathered from the US Environmental Protection Agency (EPA). On April 19, The Guardian announced the ALA had released its most recent report card for 2023, giving Americans the skinny on the best and worst pollution offenders. The assessment used data from 2019, 2020, and 2021 to compile the findings.
Details from the Report
According to the association, six out of the top 10 cities with ozone problems were in California, with Los Angeles in the number one slot. Utah, Texas, Colorado, and Arizona cities rounded out the top 10. As far as year-round particle pollution, California dominated there, too, with Bakersfield tied with Visalia for number one. Arkansas, Oregon, Arizona, and Indiana joined The Golden State as housing the dirtiest cities for particle pollution throughout the year.
The ALA reported more than one out of every three Americans in the union live in highly-polluted areas. In fact, the lung association estimated nearly 120 million people are exposed to unhealthy levels of soot and smog, and people of color were 3.7 times more likely to live in an area failing each metric than white people. Sadly, the association stated the 2023 report showed 111 counties in 19 states across America received an F for particle pollution.
According to the report, most of the cleanest cities were in the eastern part of the United States. Albany-Schenectady, New York, filled the top slot for ozone health, followed by cities in North Carolina, Maine, Washington, Virginia, Kentucky, Texas, Georgia, and Vermont. A pair of Hawaiian cities, Kahului-Wailuku-Lahaina and Urban Honolulu, tied as the best for year-round particle pollution, followed by cities in Wyoming, North Carolina, and Maine.
Reactions to the Report
ALA National Senior Policy Director Katherine Pruitt, who was also the lead author of the report, said it was shocking and "distressing" that so many people in America live in places that don't have clean air, according to The Guardian. She blamed climate change as the main culprit of "undoing…the progress" the EPA should have made and kept over the years.
Pruitt said the good news is the organization sees "improvements in ozone air pollution," but the bad news is particle pollution is getting worse.
Copyright 2023, ReliableNews.org