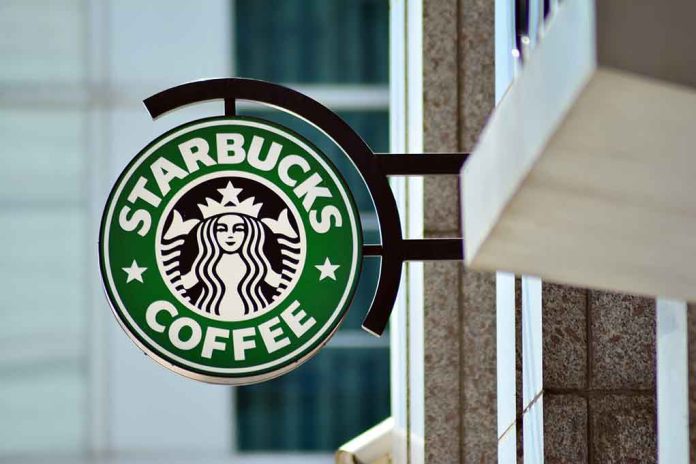 (ReliableNews.org) – Every week, about 60 million customers visit Starbucks cafes. Individual stores have roughly 500 visitors every day. Two of those customers are very upset after a recent trip to the coffee house.
On January 7, Deedee and Jesse O'Dell visited their neighborhood Starbucks and ordered two cups of coffee. Jesse said he paid the bill, which was roughly $10, and then selected the option for "no tip." The Kansas City Star reported he spoke to McClatchy News on the phone and said, "I know how to press buttons. I didn't press that button." Though he opted not to leave a tip, his card was charged $4,456.27.
The couple discovered the charge days later when Deedee was out shopping with her four kids and she tried to use the same card to buy something — it was declined. When she checked the transactions, she discovered the massive Starbucks charge.
After the discovery, the couple immediately contacted the cafe and the district manager. They had to repeatedly call the district manager before the company sent refund checks for the charges. The couple took the checks and deposited them into their bank. Shockingly, they bounced.
A Starbucks spokesperson claimed the checks bounced because of a typo. However, that mistake cost the couple a family vacation they'd been planning for months. Their plane tickets were nonrefundable, so they lost the money for those because of the cafe's mistake, as well.
After the checks bounced, the couple said they called the company's customer service helpline 30 to 40 times. Finally, they got ahold of someone who said they were sending out new checks, which the couple received recently.
Jesse O'Dell said his family was happy to be able to finally put the stress behind them and that losing $4,500 was a huge financial burden. What he said was a "moment of weakness" turned out to be a financial nightmare.
Copyright 2023, ReliableNews.org