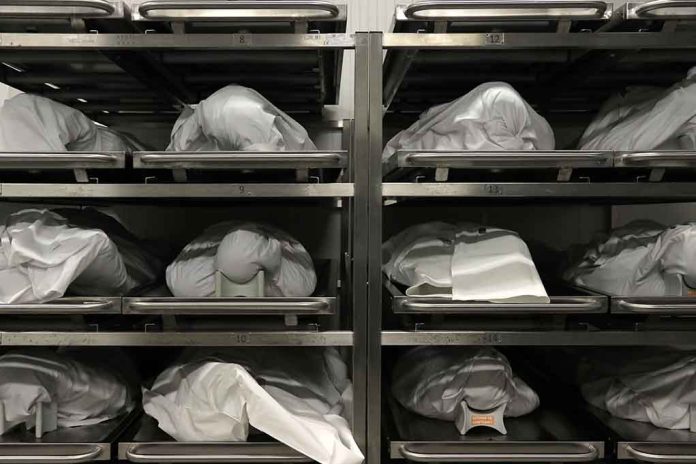 (ReliableNews.org) – When a funeral home picks up a body, there's an expectation they will treat the remains of the dead with respect. A crematorium in California didn't get the memo.
On March 1, the Alameda County Sheriff's Office discovered 154 cremated remains and six bodies inside a warehouse linked to Oceanview Cremations. The crematorium's license was suspended in 2018, but it reportedly continued to operate anyway. On February 28, the California Cemetery and Funeral Board sent notice to the Alameda County Coroner's Bureau that the business was still operating, leading to a search.
Five of the bodies were identified, but Robert Smith, the owner of the crematorium, didn't hand over information that could lead to the identification of the sixth body. Only four of the 154 cremated remains were identified as of March 11. However, those remains were tagged and labeled, hopefully making it easier to identify.
Police contacted some of the families. One of the families told police that Oceanview gave him cremated remains that they said were his dad, but his father's name was listed on the list of remains found at the warehouse. It's unclear whose remains the son has in his possession.
Oceanview Cremations had been illegally storing the dead at its warehouse since 2018.

The business had a corporation and individual business license under the same name, which of both had been suspended since 2018 and 2022.https://t.co/3gvJV7U9Aw

— San Francisco Chronicle (@sfchronicle) March 13, 2023
Lt. Tya Modeste, a spokesperson for Alameda County Sheriff's Office, told the San Francisco Chronicle that the crematorium had individual and corporation business licenses under the same name, but both of them were suspended, one in 2018 and the other in 2022. The business was still not authorized to "store remains on the premises." The spokesperson explained the suspensions were due in part to "complaints about lack of service/follow-up."
This isn't the first time a business has mishandled remains. In 2022, 31 decomposing bodies were found in an Indiana funeral home. In 2016, authorities found 16 decomposing bodies at a Florida funeral home. Just like with any service, families should ensure the funeral company they use has a good reputation.
Copyright 2023, ReliableNews.org