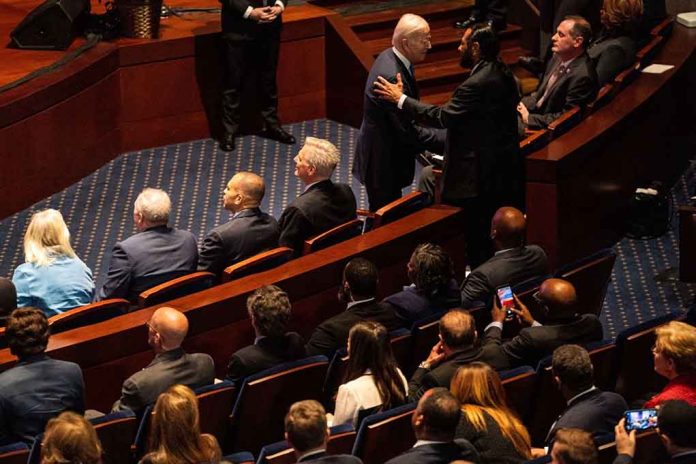 (ReliableNews.org) – On February 7, President Joe Biden delivered his second State of the Union (SOTU) address. Although Democrats seemed largely pleased by the US leader's performance, the night did not go off without a hitch. In fact, there were some awkward pauses, outbursts, and interactions before and during the SOTU that had the country buzzing afterward. Here are some of the more noteworthy incidents.
Whoops
During the first few moments of Biden's speech, the president congratulated and recognized some people in the crowd, including the new House speaker and House minority leader. He then went on to mention that Senate Minority Leader Mitch McConnell (R-KY) was the "longest-serving leader" in the history of the Upper Chamber before moving on to Senator Chuck Schumer (D-NY), who he also referred to as the minority leader. Biden quickly corrected himself and tried to laugh off the gaffe.
Although that seemed to be the only major flub during the president's speech, which was surprising considering his gaffe-filled past, there were also some moments that seemed to throw off the leader, if only for a few seconds.
Pauses and Outbursts
While addressing the state of the economy, Biden accused Republicans of wanting to hold the "economy hostage" unless he complies with their economic plans. That statement alone had House Speaker Kevin McCarthy (R-CA) shaking his head, but what followed caused the president to halt his speech altogether. Biden stated some members of the GOP wanted to sunset Medicare and Social Security, creating an outburst of boos and jeers from several Republicans in the gallery. Representative Marjorie Taylor Greene (R-GA) boldly screamed that the president was a "liar." It took a few minutes for Biden to get back to task.
When the US leader talked about his border plan, his words elicited a similar response, causing him to pause once again, momentarily throwing off his speech momentum.
Guests and Raised Eyebrows
The president highlighted a few guests during his speech. Among those were Tyre Nichols' mother and stepfather to seemingly prove the need for police reform. Some saw the addition as a gimmick in bad taste, using a grief-stricken family as what HBO host Bill Maher referred to as a "stunt casting" that felt "gross."
Another awkward moment came before the speech when Senator Mitt Romney (R-UT) confronted Representative George Santos (R-NY) in the chamber, telling the newly-elected representative he didn't "belong" there. Romney later clarified to reporters that the controversial legislator "shouldn't [even] be in Congress."
Copyright 2023, ReliableNews.org