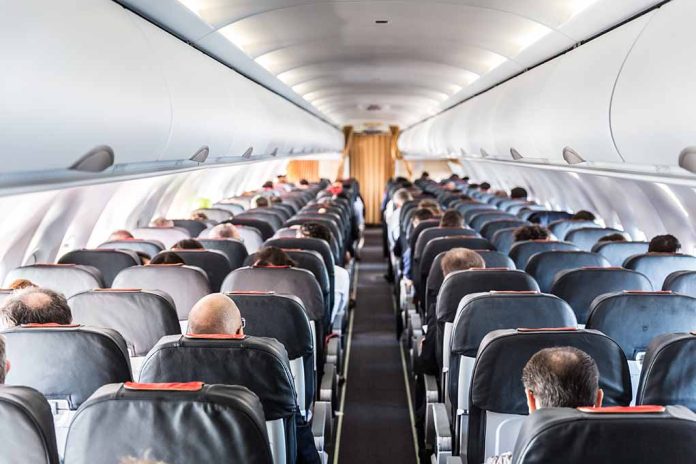 (ReliableNews.org) – The airline industry has been in the news a lot lately for all of the wrong reasons. After a number of near misses and one plane plummeting within 800 feet of the ocean, some travelers are a bit nervous about flying. Recently, a report indicated the safest seat on a plane in case of an accident.
The aviation website Simply Flying revealed that there is somewhere you can sit to minimize your risk. According to a report on the site, people often assume that the spot that would give them the best chance of survival is somewhere in the back near the tail. That's because wreckages often show the tail fin intact. But there are a lot of factors to consider, including where the brunt of the impact takes place.
The website references a 2008 study by the University of Greenwich that determined the safest seat is one that is near an emergency exit after an accident. That's because it gives passengers the chance of a quick exit if there is a fiery crash.
Have you ever wondered which seats on a plane are the safest? https://t.co/CbEVGUWrjB

— Simple Flying (@simple_flying) April 30, 2022
TIME also reported it had studied Federal Aviation Administration data to figure out where the safest seat is. Researchers combed through a database that goes back 35 years and found 17 seating charts to analyze. They broke the plane up into three sections. The back part of the plane had a fatality rate of 32%, the middle of 39%, and the front of the aircraft rate was 38%.
Ultimately, surviving a plane crash has less to do with seating and more to do with the circumstances surrounding the accident. For example, if a plane crashes after rapidly descending 30,000 feet, it's unlikely anyone will survive. But, if a plane is in a runway accident, then lights on fire, like what happened to drummer Travis Barker in 2008, chances of survival increase.
The varying factors are why many experts do not believe there is such a thing as a safe seat on a plane.
Copyright 2023, ReliableNews.org