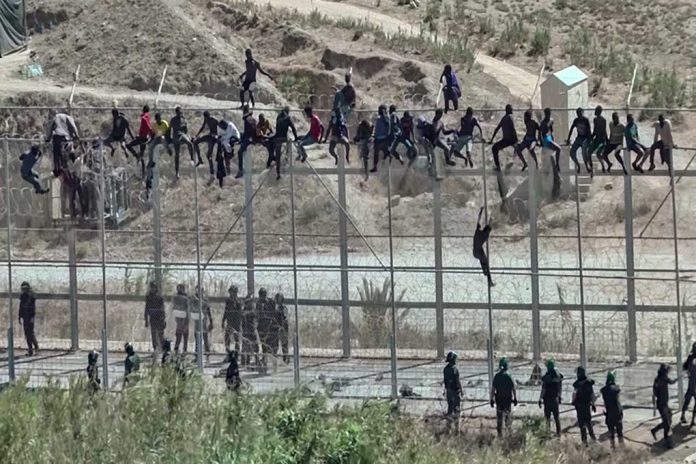 Biden's Border Crisis Is Still Going Strong – 6.2K Illegals Daily
(ReliableNews.org) – On November 6, Breitbart published an exclusive story regarding President Joe Biden and his handling of the border crisis in America. The source states the Federation for American Immigration Reform (FAIR) shares figures with the news outlet stating "at least 6,200…illegal aliens" cross the border every day. Breitbart reported that nearly 87,000 people "got-aways," crossing into the US without apprehension in October. The figure included both illegal immigrants the Department of Homeland Security knew about and perhaps thousands that they didn't.
Voter Issues
A November 3-6 poll conducted by YouGov and The Economist revealed the most important issues for voters that were driving them to the polls. The survey of 1,500 Americans just days before the midterm elections put immigration as one of their top three issues. The economy was number one, and inflation was number two. After immigration, voters were concerned about crime and government spending.
More than half of Independents who answered the questionnaire said migration was on their mind when casting their ballots. Only 30% of Democrats polled listed immigration as a priority item, whereas Republicans put the issue as the second most important behind inflation, "jobs and the economy."
In October, House Minority Leader Kevin McCarthy (R-CA) accused Biden of "destroying our border," indicating fixing the mess might be a priority for a Republican-controlled Lower Chamber, should the opportunity arise in January 2023. If the GOP wins control of the House, it's likely McCarthy will rise in position to House Speaker.
Current Immigration Numbers
According to US Customs and Border Protection, border crossings for the fiscal year 2022, which runs from October 2021 through the end of September 2022, reached about 2.4 million. The previous fiscal year showed over 1.7 million people crossed into the US — an uptick in 2022 of 700,000 migrants. The numbers from the last two years of the Trump administration pale in comparison. The fiscal year 2019 saw under 900,000 people, and in 2020, only a bit over 450,000 dared to breach the line into America.
FAIR President Dan Stein said, "agents have reason to believe" the got-away population of immigrants not recorded could have criminal records or may be on a "terror watch list." In fact, they said over 68,000 of the people recorded as entering the US over the last two years had criminal records.
Breitbart reported the figures they received from the organization show over 100,000 "illegal aliens" may have been released in communities throughout the US by the Biden Administration itself. The data evidently shows nearly 200,000 people crossed the border during just October.
Overall, FAIR alleges the federal government, under President Joe Biden, having recorded well over 2 million crossings last fiscal year, has allowed 1.35 million "border crossers and illegal aliens into American communities" between February 2021 and August 2022.
Copyright 2022, ReliableNews.org