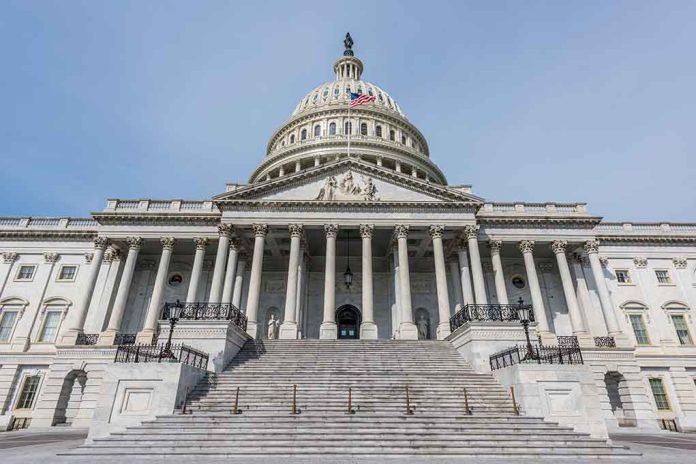 (ReliableNews.org) – TikTok is one of the most popular apps in the world. More than 1 billion people use the social media platform, and it's been downloaded over 250 million times in the US. The federal government is considering a ban on the Chinese-owned company. The app's influencers headed to Capitol Hill to protest the potential move.
On Thursday, March 23, TikTok CEO Shou Zi Chew appeared before a House committee to try to convince lawmakers they don't need to ban the app. About 20 influencers with large followings descended on Capitol Hill ahead of his testimony. Kenny Jary, known as "Patriotic Kenny" on TikTok, was there to convince Congress to keep the platform legal. He told The Wall Street Journal that he uses the app to raise money to purchase mobility scooters for veterans like himself. The 81-year-old has a following of 2.6 million people.
#KEEPtiktok signs at U.S. Capitol pic.twitter.com/Y0LcWVrkBT

— Howard Mortman (@HowardMortman) March 22, 2023
In a video on his TikTok account, Jary said he went to the Capitol because he "would lose everything" if lawmakers ban the platform.
Gen-Z for Change Founder Aidan Kohn-Murphy has an individual following of nearly 300,000 people, and his organization boasts another 1.6 million supporters on TikTok. He also traveled to DC, saying the platform isn't "a children's dancing app." He explained that it's "one of the most powerful tools that young people have" to get involved civically and engage with one another. TikTok paid for the expenses of those who protested.
During Chew's testimony, lawmakers seemed unconvinced the platform should remain operable in the US. It's owned by the Chinese company ByteDance. There have been repeated reports about unauthorized people within the company accessing private data from American users. The CEO claimed there was a firewall protecting the US division, but even he admitted it was possible for the Chinese government to use the app to carry out an influence campaign on Americans.
Copyright 2023, ReliableNews.org