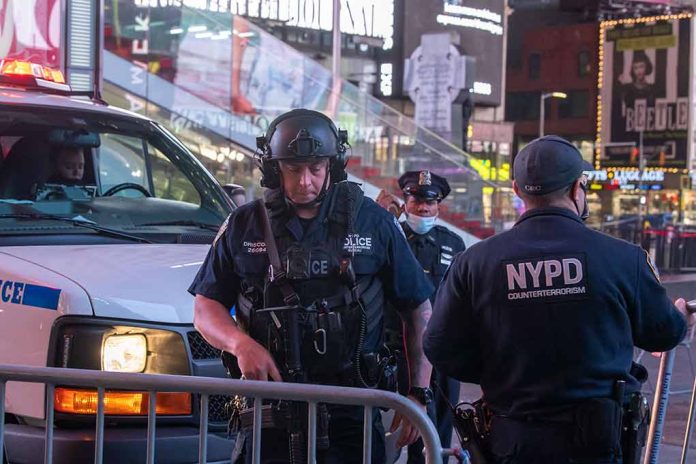 (ReliableNews.org) – After the Supreme Court eliminated a century-old gun control law in New York, the state passed new measures. One of them allowed officials to declare certain places "gun-free" zones. Times Square is one of those new zones, according to signs placed around the area. But that didn't stop a shooting from taking place recently.
On Monday, July 17, just before midnight, shots rang out in Times Square. Three teenagers were hit by bullets and taken to area hospitals. An 18-year-old and a 15-year-old were both taken to Bellevue Hospital to receive treatment for gunshot wounds to their legs. A third teen, 17 years old, was grazed by a bullet in his armpit. He was taken to Harlem Hospital by a private car.
According to reports, the teenagers were on Citi Bikes with about two dozen others when a shooter came out of the subway with about eight others and began firing. The NYPD revealed the gunman was arguing with the victims before the shooting.
Earlier that day, 15-year-old Foridun Maulonou died in a shooting in Brooklyn. Video captured the deadly incident. It occurred in broad daylight on a busy street. The shooter pulled out a gun and just began firing across the street. The victim was shot in his back and later died at the hospital.
Both shootings occurred the same day Mayor Eric Adams announced Edward Caban as the new NYPD commissioner. He's the first Latino to lead the department's roughly 36,000 men and women.
Edward Caban has played a central role in driving crime down these last 18 months. With 30 years experience, he is the right choice to be our next NYPD Commissioner.

A Bronx native and our first Latino commissioner, he's an inspiration to our city.

Congratulations, @NYPDPC! pic.twitter.com/KpSfn374XH

— Mayor Eric Adams (@NYCMayor) July 17, 2023
The 55-year-old began his career with the department in 1991. For the next 30 years, he climbed the department's ranks and became the first deputy commissioner in 2022. His father, Juan, was also a law enforcement officer and was there when his son was sworn into office on Monday.
Now it will be Caban's job to try to get the rampant crime under control in the country's most populous city.
Copyright 2023, ReliableNews.org