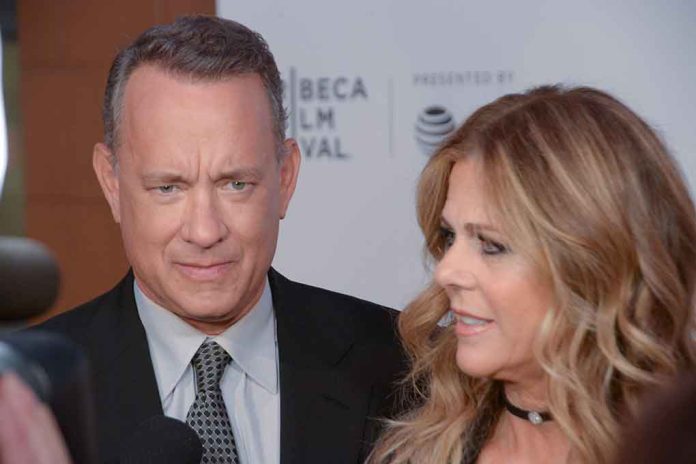 Tom Hanks LOSES It After Fan Does THIS To His Wife
(ReliableNews.org) – We've all seen videos of fans mobbing celebrities when they're out in public. Actor Tom Hanks and his wife Rita Wilson are no strangers to this popularity, as both are well-respected Hollywood stars. Recently, Hanks grew agitated and went off on fans.
On June 15, Hanks and Wilson were leaving a restaurant in New York City when fans and paparazzi descended on them. At first, the two stars smiled and walked quickly to their car. Then, the mood shifted. The small crowd pushed forward, causing Wilson to stumble and nearly fall. She stopped, turned around, and said, "Stop it!"
That's when Hanks had enough. The actor shouted, "Back the [expletive] off!" One of the couple's security team members asked them what they were doing. Hanks angrily pointed out that that pressing crowd had nearly tripped his wife.
The following video contains language that might be offensive to some.
Someone in the crowd apologized, saying, "Sorry about that. Sorry about that, Tom."
Hanks, known for being extremely polite, rarely uses foul language in public. Basketball star LeBron James defended the actor on Twitter, asking what happened to "personal space." Other Twitter users also spoke out in support of the actor, joking about how terrible the people must have been behaving to inspire such a negative reaction from the actor.
Imagine having to go through the rest of your life knowing David S. Pumpkins yelled at you. https://t.co/1O7nvfIhn6

— Tim Martin (@TMar15) June 16, 2022
Do you think Hanks had a right to yell at the crowd?
Copyright 2022, ReliableNews.org