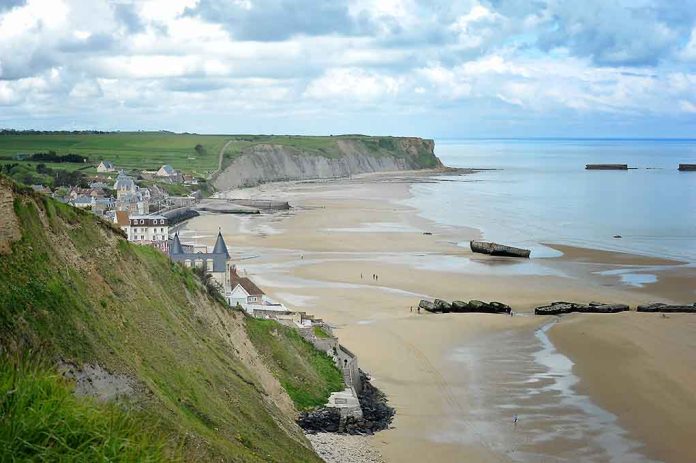 (ReliableNews.org) – Cocaine washing ashore in various countries isn't uncommon. Drug traffickers often use bodies of water to move narcotics, and sometimes, the goods fall off the vessel. Recently, a massive amount of cocaine washed up on a European beach.
At the end of February, 1,875 pounds of cocaine washed ashore in Réville, Normandy, France. The town, located on the Cotentin Peninsula, is situated on the English Channel. The drugs were inside two sealed bags tied together by a rope.
The cocaine was estimated to be worth nearly $160 million.
Bags containing 2.3 tonnes of cocaine wash up on Normandy coast https://t.co/KZwZR92f03

— The Guardian (@guardian) March 2, 2023
In the week since the drugs washed ashore on the beach, Normany beach locals have reported a surge in visitors to the area, according to the Agence France-Presse (AFP). The visitors are seen in luxury cars and have unloaded 4x4s to comb the beaches looking for more drugs.
There's been a rise in the amount of cocaine seized in European nations in recent years. Drug violence has increased exponentially in places like the Netherlands and Belgium. The Associated Press reported Belgium's justice minister lives in a safe house because they fear drug gangs.
Belgian Finance Minister Vincent Van Peteghem said the increase in violence has "astounded" officials. He said it was troubling that there's been an increase in drugs entering through the ports. Meanwhile, in France, the police seized 27 tons of cocaine in 2022. That's a five-fold increase over the level 10 years ago.
On March 3, prosecutor Philippe Astruc warned people that "taking possession" of any of the cocaine bundles and transporting them is a crime. Anyone caught doing that could spend up to a decade in prison. He also said the drugs were very dangerous because it was likely to be up to 90% pure. He pointed out that in 2019, a man died after he took cocaine that washed up on a beach.
Copyright 2023, ReliableNews.org