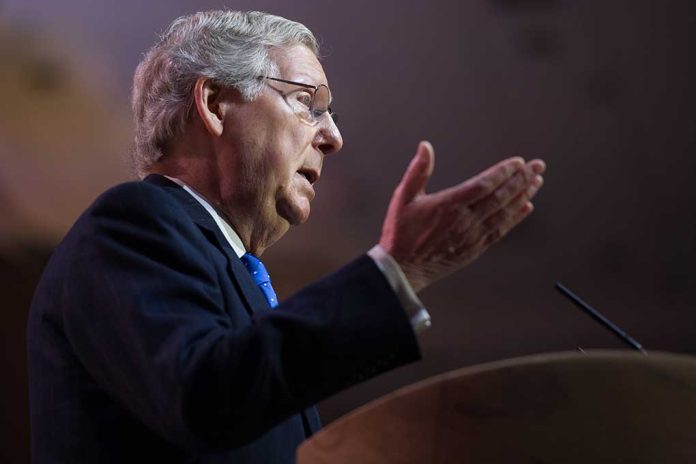 Top GOP Leader Goes After Newly-Elected Democratic Leader
(ReliableNews.org) – Speaker of the House Nancy Pelosi (D-CA) will no longer be a party leader when the new Congress is sworn in next year. She recently handed the reins to Rep. Hakeem Jeffries (D-NY). Senator Mitch McConnell (R-KY) recently criticized the soon-to-be Democratic leader.
On December 1, McConnell slammed Jeffries during a speech on the Senate floor. He pointed out the Democrat has repeatedly called former President Donald Trump an "illegitimate" POTUS "at least nine times." In one instance, the minority leader quoted the congressman as saying, "History will never accept" Donald Trump "as a legitimate president."
Senate Minority Leader Mitch McConnell from the Senate floor this morning on Rep. Hakeem Jeffries: "The newly elected incoming leader of House Democrats is a past election denier, who basically said the 2016 election was 'illegitimate' & suggested that we had a 'fake president'." pic.twitter.com/MX4dF8ST7j

— Craig Caplan (@CraigCaplan) December 1, 2022
The point McConnell was making is that Democrats are hypocrites for selecting an election denier to lead them while simultaneously complaining about Republicans who think the 2020 results were rigged.
On December 4, Jeffries hit back during an interview on ABC's "This Week." Host George Stephanopoulos asked him to respond to the criticism of his past remarks about Trump. He slammed the GOP, saying, "Facts don't matter." The congressman went on to say he "supported the certification" of the 2016 election. He also went to the inauguration and tried to work with the former POTUS, but that doesn't mean he wouldn't criticize him.
Incoming House Democratic Leader Hakeem Jeffries responds to Senate GOP Leader Mitch McConnell accusing him of being an "election denier."

"Here's the Republican playbook: Facts don't matter. Hypocrisy is not a constraint to their behavior." https://t.co/Olzji4qEmM pic.twitter.com/nCS6cCFeP8

— This Week (@ThisWeekABC) December 4, 2022
What do you think about Jeffries' past remarks?
Copyright 2022, ReliableNews.org