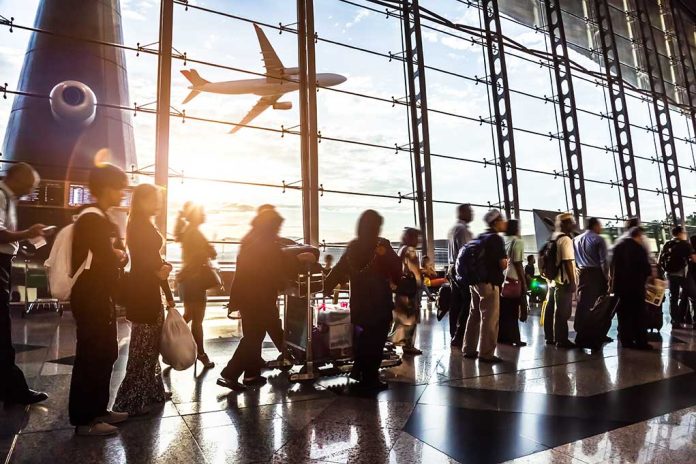 Airline Delays Wreak HAVOC – DOT Announces BIG Changes
(ReliableNews.org) – Frustrated air travelers are complaining about delays and disruptions across the US. A combination of weather and staffing problems are causing chaos, with tens of thousands of flights affected this week alone. For a nation that's come to rely on convenient flights, it's an unwelcome shock.
Summer travel nightmares have continued, with more than 19,000 flights delayed and nearly 3,000 more canceled since Sunday in the U.S. This summer, nearly a quarter of flights by U.S. airlines have been delayed, according to FlightAware. https://t.co/xsaWQmOQB2

— WJZ | CBS Baltimore (@wjz) August 24, 2022
Between August 21 and August 23, almost one domestic flight in four didn't depart on schedule. Over 19,000 flights were delayed and 3,000 more were canceled in just three short days.
The average delay is almost an hour. But missed connections can make things worse for unlucky passengers, who complain about "a lack of personnel and a lack of organization" at US airports.
Severe storms across the southern US disrupted flights in Texas, Louisiana, and other states. Weather can always affect flights, but the problem is worse in 2022 than in 2021.
Airlines are already struggling with a shortage of staff as employees they let go during the COVID pandemic prove reluctant to go back to the companies that fired them. Air traffic control centers are also short-handed, so when storms start affecting schedules, there aren't enough people around to keep things on track. The result, too often, is a delayed or canceled flight.
Transportation secretary Pete Buttigieg has slammed the airlines, calling their performance "unacceptable." But carriers are defending their record, saying they're working to improve reliability by trimming routes and stepping up hiring efforts. As usual, passengers are caught in the middle. Paul Thompson, whose planned six-hour flight from Los Angeles to New York turned into a three-day ordeal, called the experience "incredibly frustrating." That feeling isn't likely to go away any time soon.
Copyright 2022, ReliableNews.org