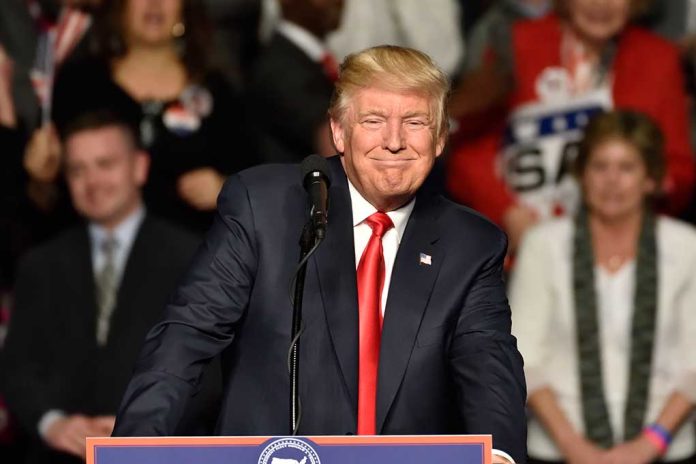 Trump Is BANKING – And It's All Thanks To The FBI
(ReliableNews.org) – Former President Donald Trump is in the middle of a fight with the Department of Justice after a raid on his Florida residence. His legal team sued the federal government, and that lawsuit is making its way through court. Although it's undoubtedly a legal headache, it's having a positive impact on other areas of his life.
According to Data AI, Truth Social, the former president's social media app, has been downloaded about 3 million times since it launched earlier this year. There has been a 550% increase in the number of people who want access to the platform just in the days since the raid on Mar-a-Lago. The data is raw, so it doesn't explain whether the increase is from people who support Trump or if it's due to people who just want to see what he is saying about the ordeal.
#TruthSocial, the platform owned by former President Trump, saw a nearly 550% surge in downloads after the #FBIRaid of his home, according to reports.

Trump took to Truth Social to announce that his home was "under siege" on Aug. 8. https://t.co/Pwzagfnmj9

— The Epoch Times (@EpochTimes) August 23, 2022
While it's unclear whether the downloads are the result of rubberneckers or not, it is clear that Trump's base is rallying behind him. Contributions to the former president's political action committee have jumped from $200,000 to $300,000 per day to $1 million in the wake of the raid.
Trump is using the search warrant and his fight with the FBI to bring in donations. His supporters are angry over the DOJ's actions and want to help him fight back. The Washington Post reports the 45th POTUS' PAC is reportedly sending out up to nine emails per day with messages like "THEY BROKE INTO MY HOME" and "They're coming after YOU."
What do you think about the FBI raid on Trump's home?
Copyright 2022, ReliableNews.org