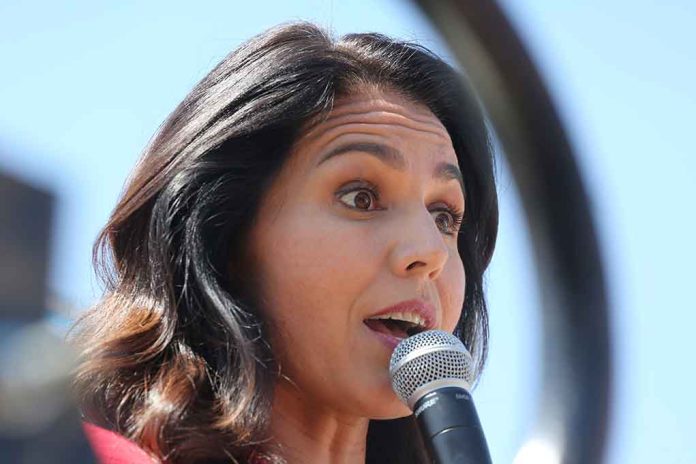 Tulsi Gabbard Throws Support Behind GOP Candidates
(ReliableNews.org) – On October 11, former Representative Tulsi Gabbard (I-HI) announced her intention to officially leave the Democratic party. The Hawaii resident said the Left no longer represents her beliefs, and she's leaving them behind for something that fits her better. In a video outlining her reasoning, the former politician invited her former colleagues to follow her on the way out the door. Following her declaration, Gabbard decided to throw her support behind GOP candidates, indicating that's where her loyalties now lie.
Why Did She Leave?
The former Hawaii rep explained in her address to the public that Democrats are now part of an "elitist cabal" who support "anti-white racism" and love to push for conflict. Gabbard further said the "wokeness" was just too much for her, as the anti-Christian Left continues its attempts to take away freedoms bestowed by God. The former legislator ended by saying she believes in a government "by, for, and of the people," as specified in the US Constitution.
Where Is She Now?
One day after her detailed announcement, the politician threw her support behind the Republican Senate candidate Don Bolduc, who is running against the Democratic incumbent Senator Maggie Hassan. According to a recent poll by Data for Progress from the last week in September, Bolduc is trailing the Democrat by only 7%. While Gabbard admitted she doesn't agree with the GOP candidate on "every issue," she's committed to doing what she can to ensure he unseats the current New Hampshire senator.
Bolduc, a retired Army veteran, said he appreciated Gabbard's support and vowed to appeal to every voter regardless of party. He believes it's time for Hassan to step down from her position in Congress.
Clearly, the Hawaiian's support was already set in motion prior to her declaration that she was leaving the Democratic party, as the pair already had a set plan to campaign together in New Hampshire. Bolduc said Gabbard was a "fellow change agent" who speaks the truth.
The same day, the former representative endorsed another Republican candidate, only this one is running for a House seat — Joe Kent in Washington state. Gabbard called Kent a "fighter" who stands for freedom and safety for all Americans. She also pointed out his dedication to securing the border — a hot-button issue for Gabbard. The GOP candidate is running against Marie Gluesenkamp Perez (D) for the 3rd congressional district in The Evergreen State.
What do you think of Gabbard's recent moves supporting the Republican party?
Copyright 2022, ReliableNews.org