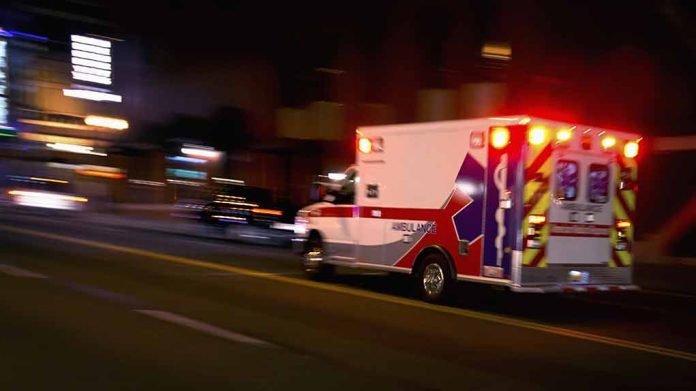 (ReliableNews.org) – According to data, nearly 50,000 Americans died from gunshot wounds in 2021, the most recent year available. About 21,000 of those deaths were murder. Families in Alabama are mourning the losses of two more people after a Labor Day shooting.
On September 4, there was an altercation outside of Aria Restaurant in Birmingham. A shooting broke out and injured at least five people. Just after 2 a.m., a Chevrolet Tahoe pulled up to the University of Alabama (UAB) Hospital, and someone asked for help for gunshot victims.
Another vehicle pulled up, and its occupants opened fire on the Tahoe. Witnesses reported hearing the gunshots outside of the hospital. Bullets hit a hospital window and a UAB police car. Police officers from UAB and the Birmingham Police Department arrived and locked the hospital down.
Two women and an injured man were taken from the Tahoe. They sustained wounds in the original shooting. Chaveda Arreaiia Willis, 33, and Markiezia Deactrius Atkins, 24, died at the hospital. The Jefferson County coroner identified them on Tuesday morning.
The man who was in the SUV suffered life-threatening injuries. Two other women later showed up at the hospital and were also treated for gunshot wounds. Their injuries were not life-threatening. Birmingham Officer Truman Fitzgerald told AL.com that law enforcement believes the shooting was "a targeted attack" but said many of the victims "were innocent bystanders."
After the shooting, dozens of people arrived at the hospital to await word on their family members and friends. They told reporters they weren't able to get information about what happened. The two women were the 90th and 91st homicide victims in Birmingham this year.
Birmingham Police Chief Scott Thurmond released a statement after the shooting, saying the women's lives "were cut entirely too short." He said their "families were destroyed" and the other victims will have scars forever.
The chief went on to say that the community wants a "safer, better" city, but a minority of people are using guns to resolve their conflicts. He vowed to work with officials to hold the people responsible for the shooting accountable for their crimes. However, it's unclear if law enforcement has arrested anyone in connection with the killings.
Copyright 2023, ReliableNews.org