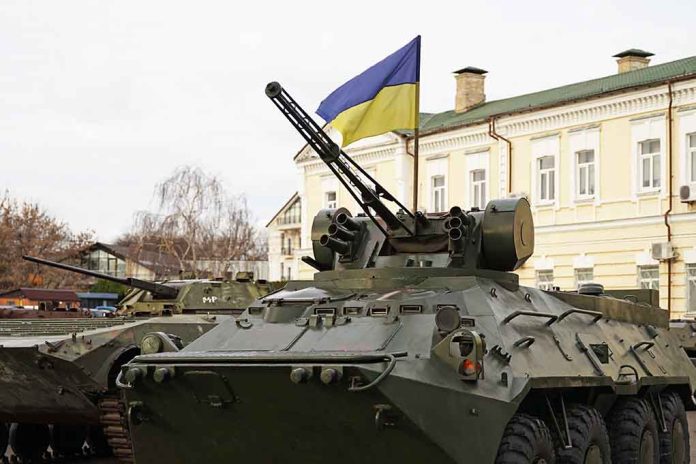 [GRAPHIC] Ukraine Sends Putin a Chilling Message Across Russian Corpses
(ReliableNews.org) – In late February, when Russian forces began invading Ukraine, many people noticed the letter Z scribbled across their tanks and military vehicles. Although it's still unclear the exact meaning of the letter, it quickly became a symbol of war and Russian aggression. On May 2, someone on the outskirts of Kharkiv, Ukraine, took a picture depicting what's believed to be dead Russian soldiers displayed in a Z shape — perhaps a symbol of fighting back.
Ukrainians Regain Territory
Russians and Ukrainians are continuing to fight for control of the second-largest city, Kharkiv, located in Eastern Ukraine. According to the Associated Press (AP), the city and the surrounding areas are littered with unclaimed bodies from both fighting forces. However, in a small village outside the city, Ukrainian troops reclaimed the small area.
Using their own symbol of war against them, allegedly some Ukrainian soldiers used the bodies to show the Russians they will win back control of their country at all costs. The AP reported the mishandling of the dead bodies could be considered a war crime, especially considering observers also found a charred body propped up near the symbolic scene.
Officials moved the bodies to the morgue for proper identification and familial notification procedures. The act was a gruesome reminder to those fighting the war and those observing that death is prevalent in Ukraine as they enter 70 days of non-stop fighting.
Fighting in Eastern Ukraine
The battle for the Eastern section of Ukraine has been especially volatile and bloody, but reporters are finding it difficult to get true accounts of the action. The AP stated Russia is restricting reporting from the front lines and the constant airstrikes make the area very dangerous for the media. Although Ukraine's forces are less restrictive, they do monitor publishing to ensure no sensitive military information makes it into the press.
On May 2, a senior US defense official confirmed Ukraine had some recent success pushing back Russian forces away from Kharkiv — about 25 miles outside the city. Ukraine's resolve to take back its country, even though it's outnumbered, has been an inspiration for many. If it keeps on fighting, which it appears it plans to do, every reclaimed territory gets forces closer to their goal of winning back their country.
With most of the world pulling for the Ukrainians and sending as much help as they can, short of boots on the ground, the country might have a shot at succeeding in the fight for sovereignty.
Copyright 2022, ReliableNews.org