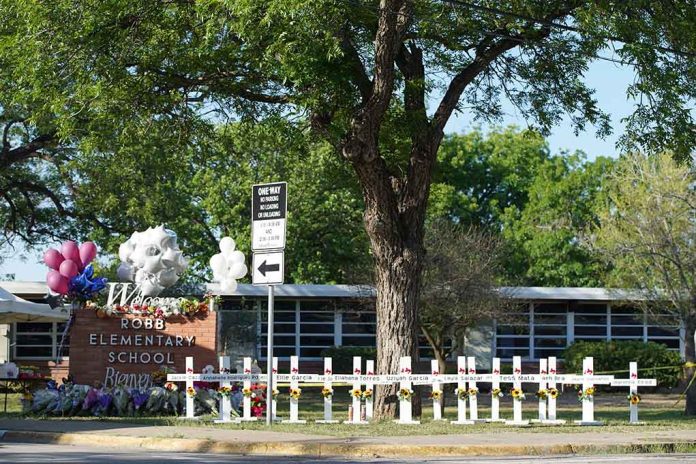 Look What's Happening In Uvalde Just Days After The Tragic Shooting
(ReliableNews.org) – On May 24, a gunman murdered 19 students and 2 teachers at Robb Elementary School in Uvalde, Texas. In the immediate aftermath of the shooting, people from across the country came together to help the victims. A week later, the community is laying the victims to rest.
On May 31, the family of 10-year-old Amerie Jo Garza laid their baby to rest. Six pallbearers in white T-shirts carried her small casket. Surviving classmates said the little girl tried to call 911 with the cellphone she'd received on her birthday two weeks before. The shooter killed her as she tried to save her classmates.
Services for the 21 killed in the Uvalde school shooting start today. The first is for Amerie Jo Garza, one of the students who called 911 — with a cellphone she got only weeks ago for her 10th birthday. pic.twitter.com/sWMvWiRSud

— Jamie Landers (@jamielandersx) May 30, 2022
The funeral for 10-year-old Maite Yuleana Rodriguez took place hours after Amerie's. On Wednesday, services for Irma Garcia, 48, one of the teachers killed, and her husband Joe Garcia, 50, who died of a heart attack two days after his wife, were held. The couple left behind four children, including a son who is a US Marine. The funeral for Jose Manuel Flores Jr., 10, also took place on Wednesday.
The services will cost the families nothing thanks to the generosity of people around the country. Trey Ganem of SoulShine Industries donated custom coffins to the families who wanted them, the parents of 18 students and 1 teacher accepted his offer. The Flower Patch, Uvalde's local shop, made the flower arrangements for the funerals. The town's two funeral homes, Rushing-Estes-Knowles Mortuary and Hillcrest Memorial Funeral Home, are not charging for the services either.
While the families mourn their dead, they do so with the knowledge the entire country is standing behind them.
Copyright 2022, ReliableNews.org