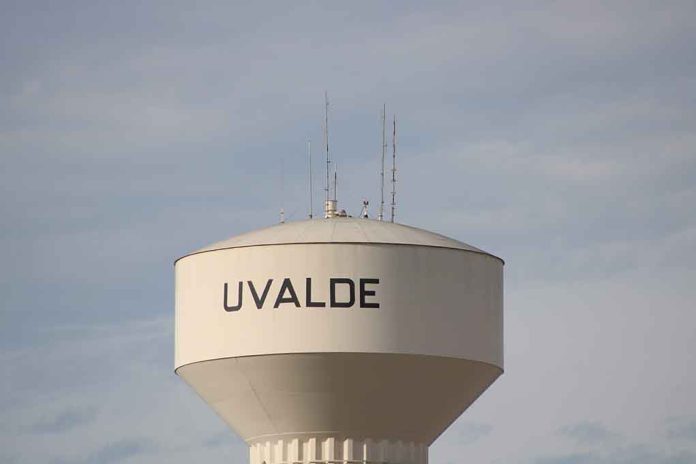 Police Chief FAILED To Respond To School Shooting On Time — Faces Leave
(ReliableNews.org) – In the wake of the deadly mass shooting at Robb Elementary School in Uvalde, Texas, an ongoing investigation shows discrepancies in the stories from people at the scene who observed what actually happened. As more details came out about the police response, or lack thereof, Uvalde Police Chief Pete Arredondo was placed on administrative leave while investigators pieced together what actually happened that fateful day. He denied knowing he was in charge of the scene.
The Day of the Shooting
On the morning of May 24, a gunman arrived at the elementary school, in response to reports of shooting in the parking area. With police on the way, the killer entered the school through an open door at 11:33 a.m., walked down the hallway, and began firing his weapon into a couple of classrooms full of kids and educators. Once he settled on a room, he walked in, closed the door, and began killing the fourth graders and adults cowering inside.
With no one taking charge, police simply bantered back and forth without taking action. It wasn't until 12:11 p.m. that Arredondo asked for a key to the room. Meanwhile, the gunman was inside the school for well over an hour to continue his killing spree. At 12:50 p.m., the gunman was finally killed. Unfortunately, he took 19 children and 2 teachers with him.
Outside the school, frantic parents were begging the police to do something — anything — to save their children or let them go inside themselves. Instead of complying, the officers did nothing, they held the parents back, and even physically restrained some to keep them outside.
The Police Block
Texas Public Safety Chief, Steve McCraw, called the operation an "abject failure," and said the shooter should have been taken down in three minutes flat. He said Arredondo put his officer's lives ahead of the children in rooms 111 and 112. In fact, his training was to confront the shooter as soon as humanly possible, but he failed.
Instead of divulging the police records from the scene, the city of Uvalde retained counsel, making it difficult to find out the truth regarding the dismal police response on May 24. Come to find out, instead of identifying the situation as an active shooter, Arredondo misidentified it as a barricade situation, saying "no children" were at risk.
Uvalde Mayor Don McLaughlin said McCraw has refused to reveal the facts or give a full report about the police response in Uvalde. Stonewalling and inaction by the police have only added to the community's grief.
As the superintendent continues to look into the manner, the police chief will remain on leave.
The question that certainly weighs heavy on everyone's mind is: If Arredondo had taken charge and followed his training, how many innocent lives could have been saved?
Copyright 2022, ReliableNews.org