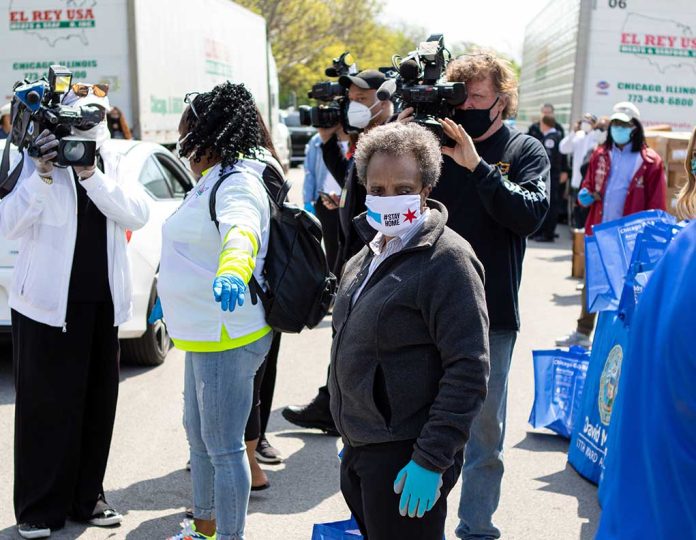 Democrat Mayor Releases Dance and Singing Video as City Crime Worsens
(ReliableNews.org) – As of September 30, 2022, 519 people in Chicago were murdered. The number already exceeds homicide statistics in the Windy City for 2019 and puts it on track to possibly meet or exceed slayings for 2020 and 2021.
On October 3, amidst the ongoing crime in her region, Chicago Mayor Lori Lightfoot (D) posted a video on TikTok singing "Sweet Home Chicago" wearing a jacket and sunglasses in front of the American flag and that of her own state. One onlooker posted another one of Lightfoot's videos on social media, calling out her negligence.
Why bother running a city when you can make music videos instead. pic.twitter.com/aAwgkJ5JKe

— Ian Miles Cheong (@stillgray) October 5, 2022
The same day, Tyson Foods announced it will be departing Chicago in 2023, joining Boeing and Caterpillar. Many cite crime rates as the reason for the mass exodus.
Twitter users were swift to react to the video shared on the platform. Some said they couldn't watch all the dancing and singing without getting angry, while others simply responded with videos of crime in the city.
Fox News reported that at the time the video was posted to TikTok, violent crime was up 37% from the same time last year. State Representative La Shawn Ford (D) said the illegal activity is beginning to affect the suburbs as well. He pleaded with Lightfoot to do more to address the problem.
What do you think of the controversy?
Copyright 2022, ReliableNews.org