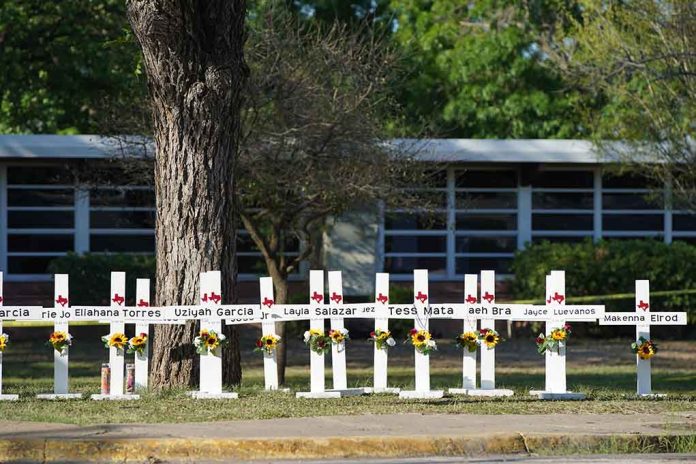 Who They Were: 19 Children, 2 Teachers Tragically Slain In Uvalde, Texas
(ReliableNews.org) – On May 24 in Uvalde, Texas, a murderer marched into a fourth-grade class at Robb Elementary School, stealing the lives of 19 children and 2 teachers. In a tragedy such as this, while the country tries to wrap its minds around how such a thing could happen, it's essential to remember the lives that were cut short.
It has been just over a week since the tragic shooting at Robb Elementary in Uvalde, Texas where a gunman killed nineteen students and two teachers. Please join us in remembering them throughout June with additional individual tributes. pic.twitter.com/LtPyOz6l58

— The Rep Project (@RepresentPledge) June 2, 2022
Here is a brief look into the lives of the victims who died that day to remember them and what they meant to this world.
Nevaeh Alyssa Bravo, 10
Little Nevaeh was a bubbling and happy 10-year-old. Her aunt told ABC news her first name was heaven spelled backward, which is most certainly where she resides today as an "angel."
Jacklyn Cazares, 9
Jacklyn was only nine years old, had a generous soul, and was always full of love and generosity. She used her big heart to stick up for the underdog and to stand tall against bullies.
Annabell Rodriguez, 10
Jacklyn's cousin Annabell took pride in her grades, often finding herself on the honor roll. The two girls were like two peas in a pod. Annabell wanted to be a veterinarian when she grew up because she loved her dog so much. She spent her time at home playing with her twin sister, who is homeschooled.
Makenna Lee Elrod, 10
Lovely Makenna was a pure light in every room. She loved spending time with family and friends, dancing and singing through life. A natural-born leader, she had an innate thoughtfulness that brought a smile to everyone's face.
Amerie Jo Garza, 10
Amerie just turned the big 1-0 two short weeks prior to the shooting. She was a true artist, grabbing for her pencils and crayons to draw every flower she saw. Amerie just recently had her bridging ceremony, bringing her into the Girl Scouts. She was posthumously awarded the Bronze Cross by the organization.
Jose Manuel Flores Jr., 10
Another proud honor roll student, Jose loved being outside in the sun, playing baseball, and diving into video games on rainy days. His father told reporters he was a wonderful big brother, always willing to help.
Eliahna Garcia, 10
Young Eliahna loved nothing more than spending time with her family and making friends everywhere she went. Her loved ones often found her dancing around enjoying life.
Uziyah Garcia, 10
Uziyah was a little boy who loved playing catch with his grandfather. He had a kind nature, was quick on his feet, and was just learning the ins and outs of football.
Xavier Lopez, 10
This bubbly, loving boy couldn't wait for summer to come so he could do what he loved best — swim. While waiting for warmer weather, he spent his time dancing with his family and enjoying each day.
Tess Mata, 10
Tess loved to dance as well; she and her sister had fun watching dancing videos on TikTok, listening to Ariana Grande make beautiful music, and she loved having her mom curl her hair.
Layla Salazar, 11
Sweet Layla enjoyed dancing to TikTok videos, too, when she wasn't building worlds and playing with her friends on Roblox and in Minecraft. A true athlete, Layla won many ribbons on field day and enjoyed singing with her dad as he drove her to school.
Jayce Carmelo Luevanos, 10
Sadly, Jayce wanted to stay home on May 24 to go to the zoo, but he was torn because he loved going to school to see his friends and teachers. He loved animals and spending time with his family.
Jailah Nicole Silguero, 10
Jayce's cousin Jailah was also in the classroom that day. This sweet soul simply loved her family and dancing. In her last moments, she had family at her side.
Maranda Mathis, 11
Maranda was a little chatterbox with so many things to say and a love for life that brought her daily happiness. She was described as spunky and smart, with a great imagination.
Alithia Ramirez, 10
Alithia was very excited to enter double digits. She loved to draw beautiful pictures in her spare time when she wasn't kicking a soccer ball around the field.
Maite Rodriguez, 10
Another honor roll student, Maite's actual favorite class was gym because he just loved to run around. He was smart as a whip, and wanted to study marine biology when he grew up.
Alexandria "Lexi" Rubio, 10
That very morning, Lexi received a good citizen award and recognition for earning straight As in her class. This bright bulb wanted to take her smarts and become a lawyer one day. When she wasn't overachieving in school, she was playing sports and hanging out with her friends.
Eliahana Cruz Torres, 10
One of Eliahana's favorite things to do with her friends was to hit the ball around on the softball field and run the bases. She will be missed by her loving family and her teammates.
Rojelio Torres, 10
Little Rojelio was the light of his mother's life. He was bright and loving, bringing happiness into every room he entered.
Irma Garcia, Teacher
Irma, 48, was married to her high school sweetheart, Joe, for almost 25 years when she died. They had four children together. She loved celebrating life by having good old-fashioned barbecues, listening to music, and spending time with her family. Two days after her death, her beloved husband died of a heart attack. They were buried together.
Eva Mireles, Teacher
An outdoor lover, Eva, 44, loved the great outdoors almost as much as she adored her husband, daughter, and fur babies. She taught fourth grade for 17 years, giving her time and generous heart to young minds in Uvalde.
Laid to Rest
While the town of Uvalde and the country as a whole mourn for the loss of the lives cut short on May 24 at Robb Elementary School, the loving families of the victims are in the process of paying their last respects. Two funeral homes in Texas are offering free services to those struck by the devastating tragedy. Hillcrest Memorial Funeral Home and Rushing-Estes-Knowles Mortuary in Uvalde will be helping the families during this time as they pull together to wrap the community around those in pain in hopes of giving them a small bit of comfort.
May they all rest in peace.
Copyright 2022, ReliableNews.org