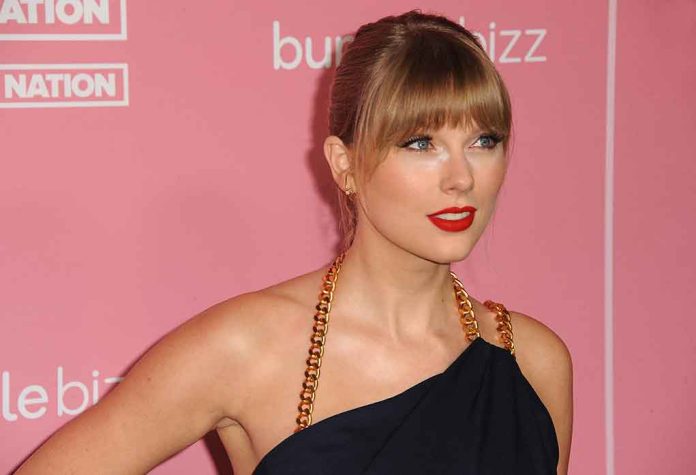 (ReliableNews.org) – Taylor Swift is currently traveling around the US on her highly-anticipated "Eras Tour." She's performing sets that are more than three hours long in sold-out arenas. Apparently, the excitement was too much for one woman.
On Saturday, May 20, a woman called 911 at about 11:30 p.m. after she began having contractions. She went into labor in the parking lot of Gillette Stadium in Foxborough, Massachusetts. Thomas Buckley, the assistant chief of Foxborough Fire, told Fox News Digital that first responders evaluated the woman at the stadium and then transported her to the hospital.
The woman later delivered the baby to the hospital. Officials said they believed both the mother and her baby were doing fine. When fans heard about the incident, they took to Twitter to discuss whether the woman would name her baby after Taylor or one of her songs.
So the woman that went into labor after the Gillette show Saturday is gonna name the baby after a Taylor Swift song right?

— Paige 🫶 Eras Tour Detroit n1 (@TSguitargirl13) May 22, 2023
Now why were there so many pregnant ladies at the foxboro eras tour and which one of y'all gave birth in the parking lot and did you name it Taylor?

— Barn Burner Account (@AUbarn_Byotch) May 22, 2023
That wasn't the only thing to happen at the shows in Foxborough. It poured during the concert on Saturday, but Swift performed in the rain. While the singer managed just fine, her piano didn't. On Sunday, she walked over to the instrument to play a song when it suddenly began to play notes on its own.
"Did you hear that?" Swift asked. She told concertgoers that when she was performing the night before, she tried to play the guitar, but her fingers were very pruned. While she was speaking, her piano played a few notes. She explained that it was underwater the night before. Then she pivoted and picked up a guitar, deciding to play that instead.
POV: the monsoon broke the piano #FoxboroughTSTheErasTour @taylornation13 pic.twitter.com/1rHbdbvcnx

— Bobby | ERAS TOUR Foxborough ✨ (@swiftieboston) May 22, 2023
While the singer was performing in Philadelphia, a video showed her yelling at someone during a performance. It was later revealed that she was telling one of the security guards at the arena to leave a fan alone. The fan later posted a video on TikTok and said the security guard had been bothering her and her friends all night long.
Swift has at least 27 more concerts to perform on her tour.
Copyright 2023, ReliableNews.org