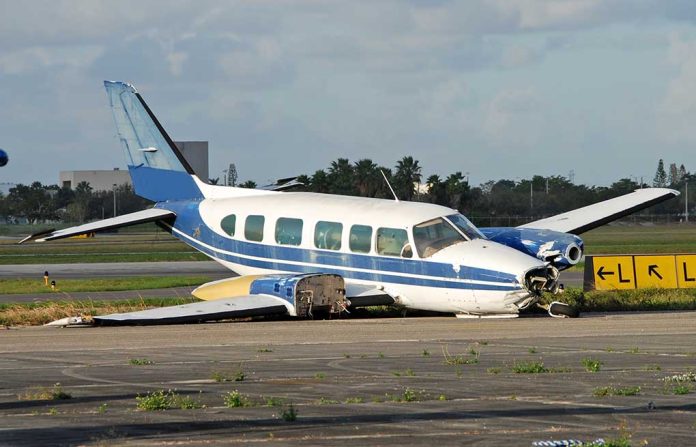 (ReliableNews.org) – Crashing an airplane is generally not something a pilot does on purpose. After all, they're literally trained to do the exact opposite. However, a California pilot and YouTuber recently admitted to doing exactly that.
On May 11, the US Attorney's Office for the Central District of California announced that Trevor Daniel Jacob, 29, agreed to plead guilty to one count of destruction and concealment with the intent to obstruct a federal investigation. According to the press release, Jacob left the Lompoc City Airport in his plane on November 24, 2021. He filed a flight plan that stated he was taking a solo trip to Mammoth Lakes.
However, prosecutors revealed Jacob mounted cameras on the inside and outside of the aircraft. He also put a parachute on, then grabbed a selfie stick and a camera. He was flying near Los Padres National Forest when he suddenly jumped from the plane.
The US Attorney's Office said after Jacob landed, he hiked to where the plane crashed to retrieve the video and other data from the wreck. In December, he uploaded the video of the crash to his YouTube account, hoping to make money from it, he told authorities.
After the incident, Jacob didn't tell the National Transportation Safety Board (NTSB) that he crashed for two days. When he did, the agency told him that it was his responsibility to maintain the crash site and plane so officials could examine everything. He promised he would give the agency the exact location of the crash and the videos of what happened.
According to the plea agreement, he lied to investigators in the weeks after the wreck, telling them he didn't know where the wreck was. While he was telling them that, on December 10, 2021, he and a friend used a helicopter to lift the wreckage out of the crash site, load it in his truck, and take it to an airport hanger. Over the next several days, he cut the wreckage up and disposed of it in trash cans.
The Federal Aviation Administration (FAA) ultimately revoked Jacob's pilot license after authorities determined the crash was intentional. He's now facing up to 20 years in prison after entering a plea agreement with federal prosecutors.
Copyright 2023, ReliableNews.org